MacNaughton as Le Vampire in Le Vampire et la nymphomane with Chants Libre - Nadia Blanchette, Geneviève Charest, Éthel Guéret, Albert Millaire, Fides Krucker, Pauline Vaillancourt. Photo: Yves Dubé.
"La meilleure voix chantée est celle du baryton Doug MacNaughton, très bon comedian par ailleurs."
("The best singing voice was that of baritone Doug MacNaughton, who was also a very good actor.")
La Presse, Montreal – Claude Gingras
reviewing Le Vampire et la nymphomane by Serge Prevost performed by Chants Libres.
"MacNaughton was a good choice for the biblical heft required of the part, his deep baritone sturdy and unwavering.  His emotional expression was powerful and sung with conviction, often towering over and above the full-tilt jazz ensemble and 22-voice choir."
Kitchener-Waterloo Record – Stephen Preece
reviewing The Light in the Wilderness by Dave Brubeck, performed by the Elora Festival Singers.
"MacNaughton used his attractive voice to embrace all of the nuances of the libretto.  His control of Lukas' long, reflective monologue was masterful and he is a great singing actor."
Opera Canada - Paula Citron
reviewing Der Corregidor performed by TrypTych Opera.
Pacific Opera Victoria's April 2008 production of Regina. Left to right - Doug MacNaughton, Gregory Dahl, Kimberly Barber.
Photo: Ross den Otter
"Wicked brother Ben, played by expressive baritone Doug MacNaughton, is the only character who can match his sister Regina's evil nature, and he has some of the most catchy melodies and galloping rhythms, which he delivers with power and flair."  
Grania Litwin
Victoria Times-Colonist, April 19th, 2008

"Le baryton Doug MacNaughton, en Taddeo, un poltron sympathique, est impayable. Comme chanteur, il a aussi beaucoup d'esprit. Assez, si je ne me trompe, pour improviser tout à coup une petite cadence à couleur orientale. Ces trios ou quatre notes furent si à propos que Rossini lui-même les aurait sans doute appréciées."
("The baritone Doug MacNaughton as Taddeo, a friendly coward, is priceless. As a singer, he has a tremendous spirit. Enough, if I'm not mistaken, to improvise on the spot a small cadenza of Eastern colour.  These three or four notes were so appropriate that Rossini himself would no doubt have appreciated them.")
Le Soleil – Richard Boisvert
reviewing L'Italiana in Algeri by Gioacchino Rossini performed by L'Opéra de Québec.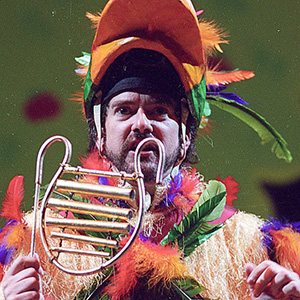 Doug MacNaughton as Papageno in Die Zauberflöte (La Flûte enchantée) with L'Opéra de Québec. Photo: Phototheque Le Soleil
"On se souvient encore du jeu désopilant de Doug MacNaughton dans L'Italienne à Algeri, vu en Octobre sur la même scène. En Papageno, le baryton est encore meilleur. De toute l'équipe, it est certainement celui qui s'investit le plus, celui qui possède le sens de l'à-propos le plus développé. De puis, il chante très bien."
("We still remember the hysterical performance of Doug MacNaughton in L'Italiana in Algeri, seen last October on the same stage.  As Papageno, he is even better.  Of the whole cast, it was certainly he who invested the most, he who had the most developed sense of the appropriate.  Also, he sings very well.")
Le Soleil – Richard Boisvert
reviewing Die Zauberflöte performed by L'Opéra de Québec